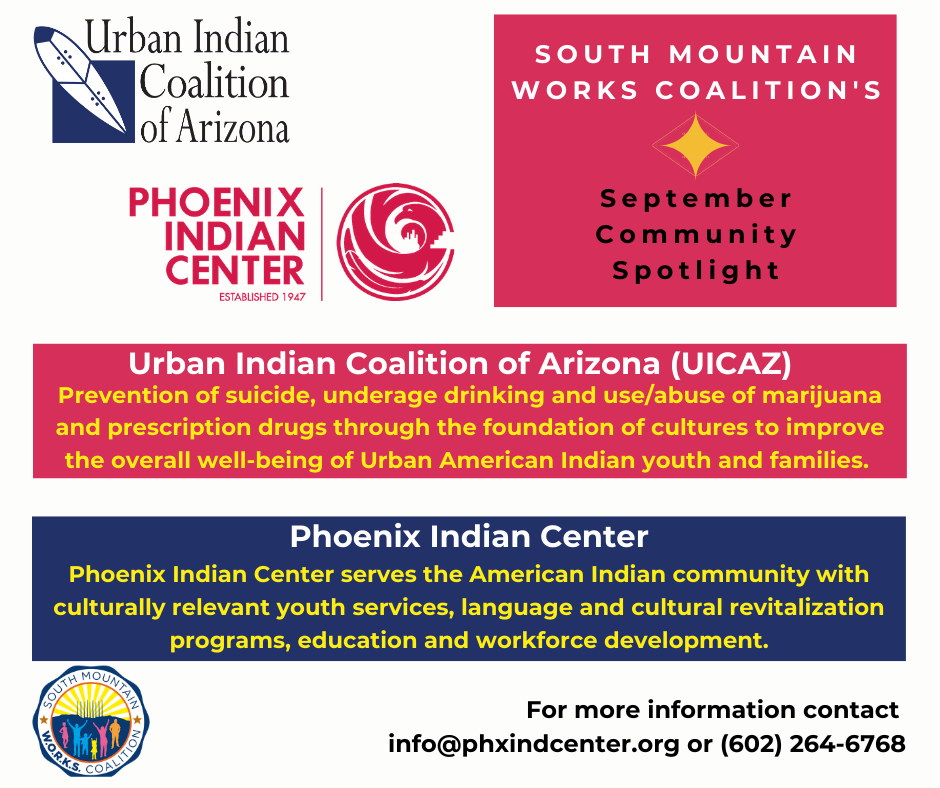 The Urban Indian Coalition of Arizona (UICAZ) meets on a monthly basis to discuss important issues affecting the Urban American Indian Community and to organize culturally-minded events and services provided to community members to prevent suicide, underage drinking, and abuse of marijuana and prescription drugs.
The events and services provided are our evidence-based substance abuse and risky behavior prevention programs: Living in 2 Worlds (L2W) and Parenting in 2 Worlds (P2W); an anti-bullying curriculum called Speak Up Be Safe workshops for middle and high school youth; Fostering American Indian Youth workshops for foster care parents/caregivers of AI youth; Youth Coalition; Gathering of Native Americans (GONA) workshops; Prescription Drug Use (Rx360) workshops; safeTALK Suicide Alertness training; Applied Suicide Intervention Skills Training (ASIST); Question, Persuade, and Respond (QPR) Training; and community education workshops on Historical Intergenerational Trauma, Underage Drinking, and Marijuana.
UICAZ would love to partner with South Mountain WORKS Coalition (SMWC) to reach Native American Youth in the South Mountain Community, by hosting events, participating in current SMWC events, and developing partnerships that are sustainable for both of the coalitions. Specifically, UICAZ would be very interested in partnering to provide Rx360 presentations, Take Back Events, virtual suicide prevention training via QPR training, reaching out to community members to connect them to parenting and youth programming such as community education workshops, GONA, and their prevention curriculum.